---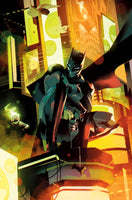 The Next Joker's rampage continues! All hell breaks loose in Gotham City as Jason Todd, a.
k.
a.
Peacekeeper Red, enlists the Next Batman and Hunter Panic to battle the Next Joker for the life of.
.
.
Tobias Whale? Plus, Talia makes a move that will change Nightwing forever!