---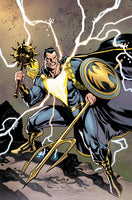 Justice League Dark crossover conclusion! Another full double-size issue crossover spectacular as Xanadoth, the original Lord of Chaos, has returned.
With unlimited power and revenge against all on its mind, the Lord of chaos has taken the form of Black Adam and no One Is Safe.
The final chapter of the Eisner-winning Bendis Justice League run wraps up with brand-new status quo for all!