---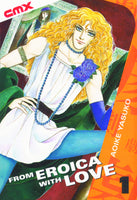 Sale
Written by Aoike Yasuko
Art and cover by Aoike
CMX.    FROM EROICA WITH LOVE is the masterwork manga of Aoike Yasuko, serialized in Akita Shoten's Princess magazine since 1976! Set in Continental Europe, it depicts the adventures of British aristocrat Dorian Red Gloria and his alter ego Eroica, Europe's most wanted international art thief. His nemesis - Major Klaus Heinz von dem Eberbach, a German NATO intelligence officer - has tried for years to catch the man who claims each crime scene with a card signed "From Eroica with Love."
    Things are just getting started when a trio of telepathically linked teenagers becomes aware of Dorian's identity and plans to capture him. But their plot goes awry as the master thief branches out - no longer content with stealing great art, he's moving on. Now the trio must foil his attempts to kidnap their leader, Caesar, as they try to save the great art treasures of Europe!
5" x 7.362"
B&W, 232 pg