---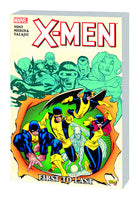 Sale
Written by CHRIS YOST
Penciled by PACO MEDINA & DALIBOR TALAJIC
Cover by ED MCGUINNESS
The Evolutionaries have arrived to save mutantkind. All it will cost is the lives of all seven billion human beings on Earth! Charged with aiding emerging species and helping ensure their survival, the Evolutionaries have judged that mutants are genetically superior to humans. But since humanity has hunted mutants to near-extinction, all humans must now die so mutantkind can live. And so must Cyclops, an unfit leader who doesn't share the Evolutionaries' vision. Does the X-Men's past hold the key to their future - and that of humanity, as well? Collecting X-MEN (2010) #12-15 and X-MEN: GIANT-SIZE #1.