---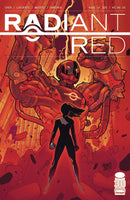 Fan-favourite creative team CHERISH CHEN, DAVID LAFUENTE & MIQUEL MUERTO return for a FIVE-ISSUE MINISERIES telling the next unmissable story from the world of RADIANT BLACK! To her students, Satomi Sone is a diligent middle school teacher.
To her fianc? and parents, she's the rock of their family.
To the world, she's RADIANT RED, a criminal-turned-matter-absorbing superhero.
But with a mysterious stranger in her classroom, a nosy reporter on her doorstep, and $2.
5 million hidden in the air vents of her house, she's going to have to decide who she is, and quickly - before the world chooses for her.