---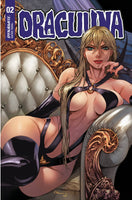 Draculina's secret origin begins in an ancient tower more than four centuries ago where her mother Lilith, desperate to free her people from ruthless oppressors, made a deal with the demon Belial to bear his children.
Now, as Katie-Draculina's human alter-ego-lays dying, the mystery of Draculina's two lives is revealed as two sides of the same woman struggle for control.
Meanwhile Belial, now retired from the demon business, has been alerted to Draculina's presence in this prime reality, and seeks to regain control over his rebellious stepchild.