---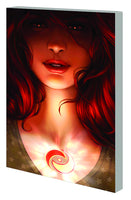 Written by MIKE CAREY
Penciled by LEONARD KIRK & PATRICK OLLIFFE
Cover by JELENA KEVIC-DJURDJEVIC
In the war for forever, time is only an obstacle. Warriors jump from century to century; their battlefields span all of history, but have led them to a stalemate. But now, a 16-year-old girl from present-day South Carolina will turn the tide. The symbol on her chest makes her part of this war, but will she save us - or damn all creation? New York Times best-selling author Mike Carey (AGE OF X, The Unwritten), and artists Leonard Kirk and Patrick Olliffe, present the next great comic epic. Collecting SIGIL (2011) #1-4.