---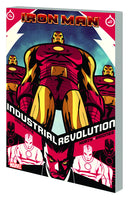 Sale
Written by FRED VAN LENTE
Penciled by STEVE KURTH
Cover by JUAN DOE
Iron Man loses everything! Tony Stark's life is in a downward spiral. Obadiah Stane has taken his company and his fortune, leaving Stark to live on the streets of Los Angeles. He is even too destitute to fuel his armor, and his fellow heroes have decided not to help him to see whether the once-great man can build himself back up. Believing he can help the residents of his new neighborhood, the impoverished Imperio section of L.A., Tony begins to rebuild his company and his life with the help of some new friends. Unfortunately for Stark, nothing happens in the City of Angels without the group of villains known as the Pride's consent. And knowing Iron Man is a threat to their criminal empire, they quickly target Stark for destruction! Outnumbered and outgunned, powerless and penniless, Tony Stark has everything to fight for and nothing to lose! Collecting IRON MAN LEGACY #6-11.