---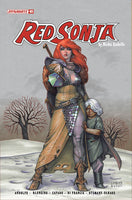 MOTHER, PART ONE. Industry icon MIRKA ANDOLFO presents an all-new vision for the She-Devil With A Sword, in a thrilling new ongoing series! Our story begins in a village on fire, set by members of the dreaded Three-Eyed Shezem. When Red Sonja arrives, the only survivor of the flame is a lively child with curious white tattoos. The child will become Sonja's travel companion, on a journey from hardened ice to imposing forests, where dangerous secrets wait to be revealed...

Begin a trailblazing adventure with MIRKA ANDOLFO (Unnatural, Mercy) and incredible artist GIUSEPPE CAFARO (Suicide Squad)!

Neapolitan artist and writer, Mirka Andolfo is one of the most complete and eclectic Italian creators in the international field.  Her Mercy series was published almost simultaneously in Italy (November 2019, Panini Comics), France (January 2020, Éditions Glénat) and United States (March 2020, Image Comics).

Her ControNatura (Panini Comics) is one of the most successful Italian series of the last few years. Published in the USA by Image Comics under the title Unnatural, it's a best-selling hit with several reprints already.

Andolfo has been collaborating with DC Comics since 2015, having lent her pencils to such titles as Wonder Woman, Harley Quinn, Catwoman, Bombshells, Teen Titans, Green Arrow, R.W.B.Y. and Hex Wives.

Also as an artist, she's drawn comics for Dynamite and Aspen, as well as some short stories for Vertigo and DC's Young Animal, and she's working on covers for DC Comics, Marvel Comics, Valiant, BOOM! Studios, Aspen, Zenescope.