---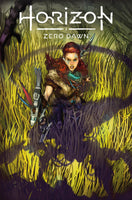 TITAN'S SMASH-HIT COMIC SERIES IS BACK FOR A SECOND ARC!
Critically acclaimed original creative team return for a new chapter in the story of Aloy and Erend! Fending off deadly machines, the pair hunt down the killer of a member of the Oseram tribe!
New game Horizon Forbidden West is coming to PlayStation in 2021!