---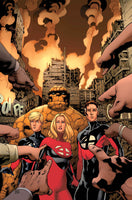 "THE FALL OF THE FANTASTIC FOUR" PART 5 - Super-Sized issue!
•  The Baxter Building is quarantined and shut down!
•  The Fantastic Four held accountable for the destruction in Manhattan!
•  A major turning point for the team and a dire blow to the family!
•  The trial of the century featuring an all-star roster of guest artists!