---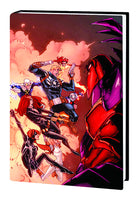 Written by SEAN MCKEEVER
Penciled by FILIPE ANDRADE
Cover by HUMBERTO RAMOS

THE SECRET AVENGERS AND YOUNG ALLIES CO-STAR IN THIS SENSES-SHATTERING SAGA! Deep in the heart of Colombia, an immense and unmarked engine hums at a steady, ominous pace. Its purpose: to exploit a tear in the barrier between this world and another; to harvest and refine an exotic energy source for Roxxon Energy Corp.
But just on the other side of that tear, inside the Negative Zone, a dark entity of vast power has been waiting for what has seemed like?
centuries - preparing for the moment when he can finally reach through and again cast his judgment on humans and mutants alike.
For the psychomagnetic abomination called Onslaught, that moment is about to arrive - and he'll have the Girl Without a World, Nomad, to thank for it!
Eisner Award-winning writer Sean McKeever (YOUNG ALLIES) and artist Filipe Andrade (X-23) team up to bring you to the heart of terror and the edge of sanity in this hotly anticipated epic! Collecting ONSLAUGHT UNLEASHED #1-4.
112 PGS./Rated T+