---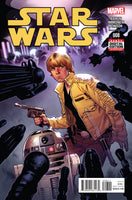 • Luke continues his quest to learn about the Jedi...
•  ...heading for the Jedi Temple on Coruscant?
•  Plus: Han & Leia are confronted by an unexpected foe!
•  New series artist Stuart Immonen joins the rebellion!
Rated T
Star Wars © Lucasfilm Ltd. & TM. All rights reserved. Used under authorization. Text and illustrations for Star Wars are © 2015 Lucasfilm Ltd.