---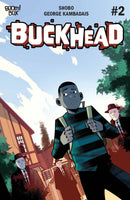 Toba's idyllic view of Buckhead has been shaken after he witnesses strange experiments, kidnappings, and more of the mysterious men in black suits. Following a lead, Josue and Toba discover the unexpected connections between the Elseverse game's purpose, origins, and someone close to Toba.

There's more to Elseverse and Stone Industries than Toba originally thought-much more, and the town is in danger.
Toba is no match for the goons and the intelligence, Ewon. But maybe with the mysterious girl he's been seeing around town, he might stand a chance..