---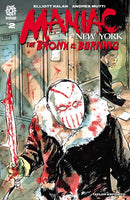 Maniac Harry is loose in a Bronx high school, and it's not so he can finish his GED!

With video of Harry's bloody rampage going viral, seemingly everyone is converging on Bright Future Academy: protestors, police, media and our heroes, Mayoral Aide Gina Greene and NYPD Detective Zelda Pettibone. Can the so-called grown-ups get out of each other's way in time? And what happens when an ordinary student risks his life to save his classmates, only to be chased by the worst bully of them all: The Maniac?

Each issue of MANIAC OF NEW YORK: THE BRONX IS BURNING features 24 pages of story and art with a cardstock cover!