---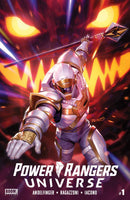 What is the true origin of the Phantom Ranger? And what is his connection to the Morphin Grid?

From the moment he first appeared 24 years ago, fans have wondered about the origin of the mysterious Phantom Ranger. Questions which have never been answered, until now...

BOOM! Studios proudly presents a limited series event that will delve into the deepest origins of the Power Rangers Universe. Origins that have the Phantom Ranger at their heart.