---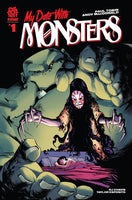 Seven years ago, an attempt to weaponize dreams resulted in holes being punched through the world we know and into the world of dreams. Nightmarish creatures now stalk the land, sprouting from (and killing) anyone unlucky enough to dream. The only way to save the world is for certain people to have their dreams come true.

Which is how Risa Harumi finds herself not only fighting monsters, but forced into finding true love. Monsters and modern dating? It feels like a nightmare either way, and the only help Risa has is a friendly-ish monster named Croak and her pre-teen daughter, Machi.

From Paul Tobin (BUNNY MASK) and Andy MacDonald (I BREATHED A BODY, Multiple Man), comes a unique story of one woman's quest to save the world, if only she could learn the difference between love and monsters.